Internet of things
Have you ever used a digital camera that can send photos via wi-fi, or a smart watch that alerts you when you receive a new e-mail or message? How about home appliances – such as voice assistants – that connect to the Internet? Internet-connected devices are part of the 'Internet of Things' (IoT).
Due to the rapid growth of the IoT industry, today there is an even wider range of Internet-connected devices, including smart vehicles and fitness clothes that monitor our health, and even more unusual applications such as diaper monitors for children and digital breathalysers.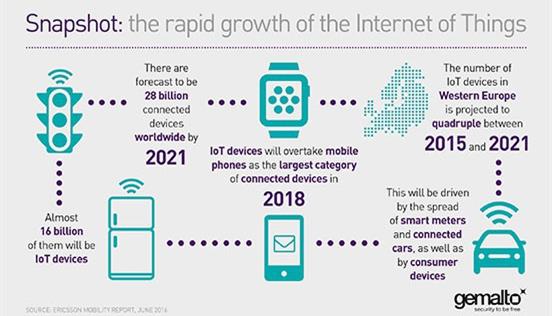 The IoT is a network of physical objects or 'things' connected to the Internet through electronics, software, and sensors to exchange data with manufacturers, operators, or other connected devices. The most common sensors are radio frequency identifiers, universal product codes, and electronic product codes. Researchers are continuously exploring new modalities to connect IoT devices, such as light emitting diodes (LEDs). IoT devices use current Internet infrastructure, and not a separate or different Internet.
IoT devices generate enormous amounts of data and create new contexts in which data is used. The IoT has triggered a multitude of new policy issues: from standardisation and technical issues, to security and privacy protection.