Geneva Center for Security Policy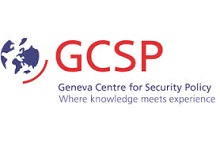 Acronym: GCSP
Established: 1995
Address: Maison de la Paix Chemin Eugène Rigot 2, 1211 Genève, Switzerland
Founded in 1995, the Geneva Center for Security Policy (GCSP) is an international non-profit foundation with an aim to advance peace, security, and international co-operation. Its Foundation Council is made up of 52 member states and the Canton of Geneva. The GCSP focuses on the following activities: (a) awareness raising, capacity building, and executive education; (b) facilitation of events and discussions; for example through its Diplomatic Dialogue programme; (c) provide analysis and research on global problems; and (d) support innovation through a fellowship programme, scholarships, and prizes.
Digital Activities
The GCSP provides analysis that covers several digital topics, including cybersecurity and transformative technologies. Its executive education is offered online and in blended formats. In response to COVID-19, the GCSP launched a series of webinars titled 'Global Crisis, Global Risk and Global Consequences'.
Digital policy issues
Network security

The GCSP tackles cybersecurity issues through education and training activities, as well as policy analysis and events. It also provides a platform for dialogue and exchanges on cyber challenges among cyber experts from the public, private, and civil society sectors. The training and education activities cover areas such as cybersecurity strategy formulation, international law relating to cyber issues, cyber diplomacy, and broader capacity building initiatives (e.g. workshops and student challenges). Policy papers published by the GCSP focus on the nature of cybersecurity, developing norms in the digital era, international legal analyses, and developing holistic solutions. Particular courses include Meeting the Cyber Security Challenge 2021 and Cyber Security: A Virtual Learning Journey and are catered to public and governmental staff and private and non-governmental employees.

The GCSP's flagship annual cybersecurity event is the Cyber 9/12 Strategy Challenge. In partnership with the Atlantic Council, this strategy and policy competition pits over 200 students from around the world in a strategy and policy competition. Teams are judged by experts, high-level policymakers,thought leaders from industry and the public sector (including NATO and the EU), and government representatives. The Challenge normally takes place at the GCSP headquarters in Geneva, but in response to the COVID-19 pandemic, the 2020 Competition took place entirely virtually.

Artificial intelligence

As part of its Transformative Technologies cluster, the GCSP looks at artificial intelligence (AI) and a number of 'disruptive technologies', which refers to synthetic biology, neuro-morphic chips, big data, quantum computing, 3D and 4D printing, brain-computer interfaces, hypersonic technology, and cognitive enhancement. In particular, the GCSP focuses on the dual-use character of these technologies, their potential use in warfare and the future of warfare, and the existing legal provisions among warfare and humanitarian rules in relation to such technologies. Overall, activities as part of this cluster aim to alert policymakers to both the challenges and opportunities associated with these technologies. These aims are also reflected in associated education activities, such as the course on Transformative Technologie and the Future of Geopolitics.

Capacity development

Many of the GCSP's activities fall in the category of capacity development activities. The GCSP offers courses and other educational and training programmes related to the Internet and digital policy, such as cybersecurity, transformative technologies, and strategic foresight.

In addition to capacity building through its executive education programmes, the GCSP also leverages its considerable intellectual and networking resources (i.e. its fellows and alumni) to engage with communities worldwide and foster trust between regions. The GCSP's cybersecurity dialogues aim to remove barriers to communication and encourage the uptake of the opportunities today's digital landscape has to offer.

The GCSP also facilitates and engages in high-level dialogue at the track 1.5 level to ensure there is as much communication as possible between parties who are often in conflict with one another. It provides a platform and mechanism for the exchange of ideas in order to build consensus on topics as diverse as international norms, agreement on legal paradigms, and regional socio-economic development.

Several other events organised by the GCSP also have a capacity development focus; one example being the annual Cyber 9/12 Strategy Challenge, a student competition in international cybersecurity strategy and policy. The Challenge was held entirely online in 2020 in response to the COVID-19 pandemic. In addition, the publications produced by the organisation can help inform various stakeholders about the challenges and concerns in the area of cyber governance.
Digital tools
GCSP offers online courses, webinars, and online dialogue series.