Twitter takeover
On 27 October, Elon Musk took over Twitter for a cost of $44bn. Twitter takeover by Elon Musk happened on 27 October for a cost of $44bn. This takeover opened numerous digital governance issues which are monitored here.
Freedom of expression
Musk said that his main motivation for buying Twitter was to protect free speech, which is 'de facto public town square".
Content policy will be the main challenge in dealing with mis/disinformation and fake news. Musk wants to follow Facebook's practice by outsourcing content policy to "content moderation council".
Responsibility of tech platforms
Future of Section 230 of the Communications Defamation Act from 1996
Labour law
Geopolitics is mentioned as concern as Musk's Tesla company has major business interest in China. Would it affect content policy on China at Twitter?
Business model: Twitter has to deal with falling income from advertising. Musk plans to charge $8 a month for a "verified" account. This fee will be adjusted based on "purchasing-power parity" for specific country (see chart by the Economist).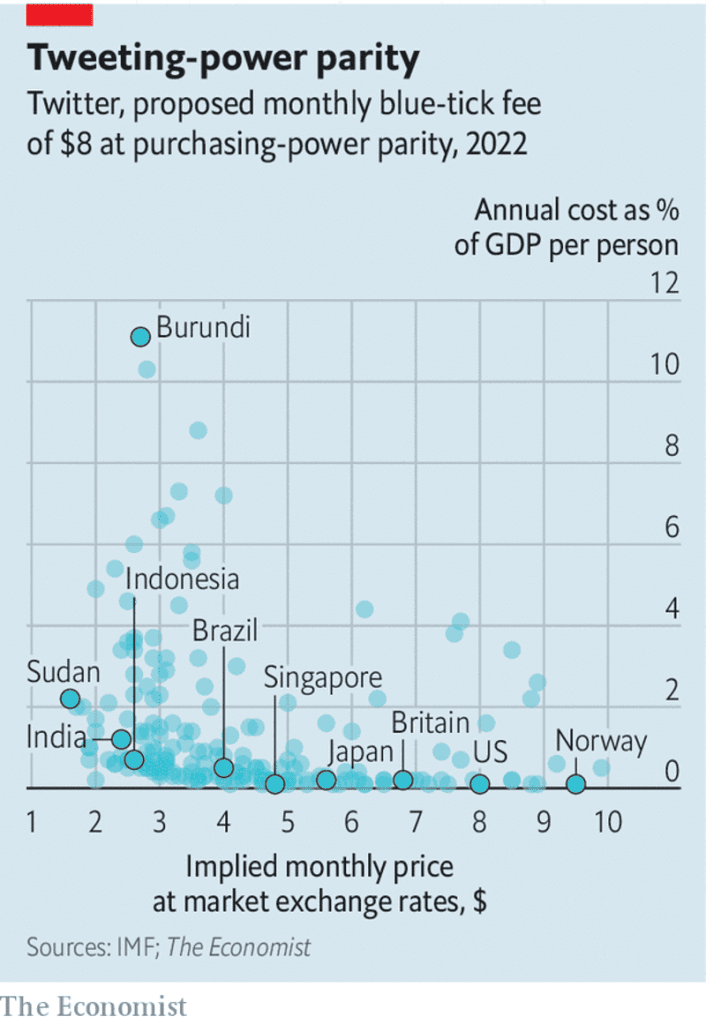 This fee would be novelity in the tech business model which used to finance its operations by advertising and mining users' data. Critical views said that it will drive users to other social media platforms. If Twitter introduces this fee, it is likely to trigger another 'side battle'. As it will be paid via Twitter app, part of fee will go to Google for Android (15%) and Apple for Iphone (30%). Twitter is likely to join Epic Games, Spotify and other app producers who try to stop this monopoly fees gathered by Google and Apple.